EUROPEAN REAL ESTATE BRAND AWARDS 2020
Baltic Sea Properties was at the EUROPEAN REAL ESTATE BRAND AWARDS 2020 awarded the price for the strongest brand among  developers of logistic property in the Baltics.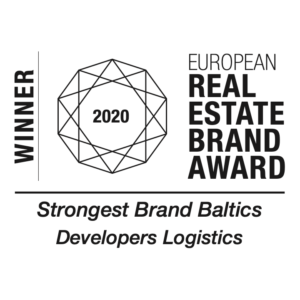 About Baltic Sea Properties
Baltic Sea Properties AS is a Norwegian company focusing on commercial real estate in the Baltics.
The company's operations are organised trough solely owned subsidiaries, all registered in Lithuania.
In the video to the right you can view a presentation of BSP's latest project - an industrial park strategically located along the axis between Lithuania's two largest cities, Vilnius and Kaunas.
We own and manage about 100 000 square meter real estate in the retail, warehouse and logistic sectors.
BSP's strategic focus areas are the biggest cities in the Baltic region.
BSP develops, rents out and manages primarily logistics, industrial and retail properties in the Baltics.