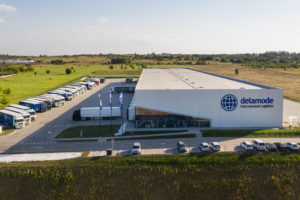 BSP is happy to announce that its two new logistics terminals in Vilnius now have been handed over to their respective tenants, Delamode and Oribalt.
«We are very pleased to have finalized the terminals according to our schedule, in spite of challenging working conditions during the months since the outbreak of the Covid-19 pandemic. This would have been impossible without the extraordinary effort our local organisation has put into finishing on time» says Lars Christian Berger, CEO of BSP; «With these projects we have secured long-term cash flows from industry-leading companies in the regional logistics sector, which will benefit the company's shareholders for many years to come. The dialogue with Delamode and Oribalt has been great throughout the development phase, and we are looking forward to continue our cooperation with them. We also hope and believe this successful delivery of projects to two highly renowned companies will open new doors for us with other international players planning to relocate in the future.»
The terminal of Delamode measures 8,300 sqm and is leased until 2033, while the Oribalt terminal measures 6,800 sqm and is leased until 2035. Delamode has moved in already, while Oribalt expects to start using their new terminal from the beginning of 2021 (rent from the 4th quarter of 2020).
For more information, please contact:
Lars Christian Berger
CEO
phone: +47 930 94 319
Lcb@balticsea.no